In a new novel, Agate Nesaule examines the aftermath of war
by Jennifer A. Smith
Wisconsin author Agate Nesaule won acclaim for her 1995 memoir, "A Woman in Amber: Healing the Trauma of War and Exile." Now, after a break from publishing, she's back with a work of fiction: the novel "In Love with Jerzy Kosinski," from the Terrace Books division of the University of Wisconsin Press.
While fiction may seem a departure for Nesaule, it's really not. Her first published works were short
stories that she wrote as a teenager. They appeared in a Latvian-language literary magazine based in the U.S.
But Nesaule's career as a professor of English and women's studies at the University of Wisconsin-Whitewater--and the demands of life in general--took her away from fiction for a number of years.
"Fiction is easier all the way around, at least for me," says Nesaule, compared to writing a memoir. The Latvian-born writer's first book dealt with difficult subject matter: a childhood spent enduring extreme hardship during World War II and its aftermath.
After barely surviving during the war, Nesaule and her family wound up in a displaced persons camp. They eventually emigrated to the United States and settled in Indianapolis, where there is a substantial Latvian community.
"In Love with Jerzy Kosinski," although fictional, deals with some of the same themes as "A Woman in Amber:" healing the emotional scars of war, attempting to make a new life for one's self, and living in exile from one's home country. Yet while "Amber" dealt mainly with childhood and early adulthood, "In Love" has a different focus.
The novel's main character is Anna Duja, a woman in her early forties who realizes she must leave a doomed marriage to a man who is sometimes charming, but more often controlling and manipulative. Much of the book is set in Madison.
The book's title comes from Anna's obsession with the controversial Polish-Jewish writer Kosinski, author of books such as "The Painted Bird" and "Being There."
As Anna breaks free from her marriage, she relies on friends (including a new one who shares her experience of war and exile) and begins a new romance. But all is not easy; some people are not what they appear to be, and Anna repeats some mistakes she's made in the past. The novel's second half takes a turn in a surprising and suspenseful direction.
Nesaule was pleased to work with the University of Wisconsin Press for her latest book. "They're very smart and nice people," Nesaule says of the Press' staff, "and they did a beautiful job with how the book looks."
Nesaule's books shed light on the experiences of Latvians now living in the United States. Says Nesaule, "Latvia, geographically and culturally, is really part of Western Europe, but it was contested ground between the Nazis and Soviets during World War II. Then it was occupied by the Soviets for half a century afterward. Politically, the Latvian experience is very much like that of Eastern Europe. Latvians have been oppressed and exploited for centuries by the Russians, Germans, Swedes, Poles--you name it."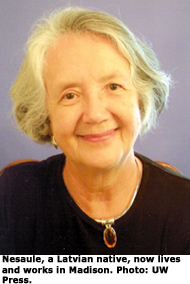 Despite its difficult history, the small nation on the Baltic Sea has retained its distinctive culture and language and boasts a rich store of folksongs. But, as the author says, "That culture was really threatened with extinction because Latvia lost one quarter of its population during World War II" due to a combination of deportations to Siberia, the flight of refugees, killings and other causes.
Nesaule's writing explores that segment of Latvians who escaped their homeland, ended up in displaced persons camps and, finally, journeyed to America.
While Nesaule is currently busy promoting "In Love with Jerzy Kosinski," she plans to write another memoir. "A Woman in Amber" dealt with Nesaule's relationship with her mother; the second memoir will focus more on her father.
"He was a Lutheran minister, and so a lot of it is about his spiritual life and his influence on my life," says the author. "But I lost my faith [amid the extreme violence of World War II] and didn't go to church, and so it's about him and about my own spiritual journey." Nesaule describes the gradual re-awakening of her spirituality. "My father wouldn't have survived [the war] without his faith."
When she's not writing, Nesaule enjoys reading, participating in an active neighborhood book club, walking, doing water aerobics and gardening. Her flower garden is her pride and joy. "I just love doing it; it's such a hopeful thing to do," she smiles.