Interview with Gerda Lerner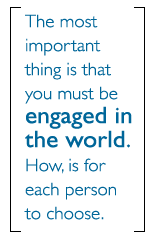 Joan Fischer: Why did you choose to present the first half of your life through the lens of politics?
Gerda Lerner: Because to me the connection between politics and thinking is a very close one and one that I believe is essential to my life. In our culture, and in most patriarchal cultures, we have made an artificial division between thinking and acting, as though the two were mutually exclusive. I believe, with Hannah Arendt and many others who have expressed this well, that thinking, the solving of problems by mental constructs, can be valid only if it is validated by experience, by the application of thought in public life. And that's politics.
Ms. Fischer: And was the designation "political autobiography" an adequate umbrella for covering the more personal aspects of your life as well?
Ms. Lerner: I'm not as concerned with telling my personal life as I am with explaining what made me the public person that people know.
One other reason why I chose to write a political autobiography is that in the life of my generation, politics determined our lives. And in my personal life, the choices I was able to make depended entirely on the politics of the world in which I lived. Most Americans do not understand that because until recently, we have had so much freedom of choice we have the illusion that politics does not affect us.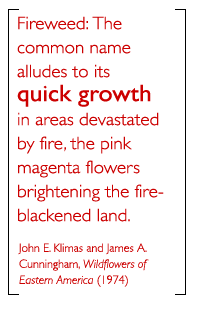 Ms. Fischer: How does the title "Fireweed" relate to you personally? Do you consider yourself a survivor first and foremost?
Ms. Lerner: Yes. But I am not just a survivor. Fireweed does not just survive, it creates new life out of destruction. So I guess that appeals to me.
Ms. Fischer: What made you decide to record and share the pre-professional, that is, pre-academic, part of your life?
Ms. Lerner: Because that's the important part of my life. Without it, the other part would not have been possible. It would have been much different.
Ms. Fischer: Did you gain any insights about yourself through the act of writing about your life?
Ms. Lerner: No. I could not have written about it if I had not had the insights before writing. Some people write for what they call a catharsis. I'm not that kind of a writer. The act of catharsis has to be worked out before you attempt to create a work of art. You have to have distance from it.
Ms. Fischer: One of the signature characteristics of your work is caring about outsiders, caring about "the other." We actually see this trait in you before the Nazi persecution, when you were as much of an insider as a Jewish person could be in Austria. How do you suppose you got that characteristic, as it didn't seem to be particularly nurtured in your home?
Ms. Lerner: I had a very strong sense of justice and fairness. I wanted the world to be a just and fair place, and it obviously wasn't-and that disturbed me right from the beginning. Maybe one reason is that I was raised in a household with servants and I always noticed how the servants were treated badly, and it always bothered me. When I was 4 or 5, I watched my mother getting dressed. Whatever she didn't use, she dropped on the floor. She walked away from it, and the maid would have to pick it up. It bothered me, even as a small child.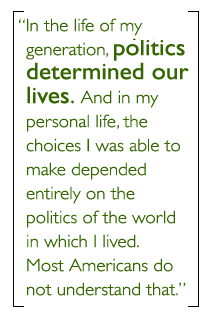 You can see this in some sensitive children who were raised with privilege that was denied to others in their environment. Children notice these things. I don't know if all children notice, but there's no question that it is something I was aware of very early.
When I wrote about slavery and abolition in my book about the Grimk sisters, who grew up with slaves, I noticed that they had the same response based on what they had observed at home. Politics begin at home.
Ms. Fischer: You write that you are afraid, even now, to write about your involvement with the Communist Party so long ago. Why?
Ms. Lerner: Because in America we have not really settled with what we call McCarthyism. Many people still have stereotypes and tremendous prejudices against people who identified themselves as Communists. I am aware of the fact that many people who respect me and respect my work will be shocked to hear this and may react very negatively. I would be happy if that weren't the case, but I am afraid that that will happen.
Ms. Fischer: The Nazi period sensitized you enormously to any government acts to curb or curtail civil liberties. Clearly you saw similarities between Nazi Europe and America's "time of the toad," as you call it in your book-the time of Communist witch hunts. How much are we risking now in post-September 11 America?
Ms. Lerner: I see many very frightening signs. I see us creating a deviant "outgroup" once again. For example, the treatment of the Afghan prisoners, whom we are taking halfway across the world without a trial, without investigation. We are removing them from their homeland, we are putting them in open cages, like animals.
It's horrible. And I think the only reason for doing it is that the government wishes to create this terror group as the new scapegoat for everything that's wrong with society. It is very dangerous.
I also see the automatic, knee-jerk "patriotism," in quotation marks, in response to the terrorist attacks, and the immediate demand for conformity, so that anyone who questions whether bombing Afghanistan was the proper response will be treated as a traitor. That's familiar ground, I've been there before.
This speaks of a profound disrespect for democracy on the part of the people who have made [this situation], a mistrust of democracy. It says that we cannot trust the American people to evaluate the deeds of people who are our enemies. It says that the government must protect the American people from themselves. That's dangerous. Whenever that happens, it leads to abuses by the group in power.
Ms. Fischer: Where can a person who cares about social and economic justice find a political home in America these days?
Ms. Lerner: I think that there are many ways in which one can take an engaged position today, as there always have been, but they are local. Each person has to find his or her own way of action. I don't believe that we need to identify ourselves as belonging to a large organized group in order to work for a more just society. Some may content themselves with working on the prison system in the U.S. Others may work on inequities in education. There are hundreds of causes you can deal with.
But the most important thing, the thing I have always lived by, is that you must be engaged in some way in the world in which you live. How, is for each person to choose.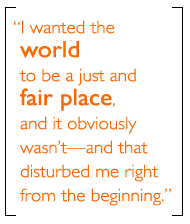 Ms. Fischer: In your memoir it is striking how you always were politically engaged, no matter what your circumstances were, whether you were caring for young children or could barely speak the language.
Ms. Lerner: That's one thing I hope people will get from the book and find it applies to their lives. I am a very happy person, and have been a very happy person most of my life even though I lived through dark times. I am happy because I found the balance between adjusting, or surviving what I was put through, and acting for what I believed in. That's the key.
Ms. Fischer: What's the connection between your own life and your work in Women's History?
Ms. Lerner: First of all I think my life has made me into a strong resister. I am able to resist the demand for conformity. When I was faced with noticing that half the population has no history, and I was told that that's normal, I was able to resist the pressure. That was something that my life equipped me to do. Having lived through the transition from being an accepted and rather privileged member of society and from one day to the next being a total outcast and victim, I learned something about how society can manipulate people. I applied that to understanding how it was possible to manipulate half the people of the world to accept that they are inferior. I learned that from my life.
That sparked my interest in the construction of race as a means of oppressing people. I didn't have to wait to be told that, I was interested in that from my own experience.
Finally, the fact that I spent 20 years or more organizing women at the local and regional levels taught me that women are active, strong, and know how to exercise power-and that the people who deny or ignore that fact are wrong. I knew that from my life. I was better able to penetrate the academic construct than I think the normal, younger student would have been.
Ms. Fischer: You didn't formally begin your academic work until your late 30s, but you were then able to speed through, no doubt in part to your life experience.
Ms. Lerner: [Starting so late in life] is unusual for many academics, and that's one reason I decided to write about it. That experience might help some of the young people who are floundering in the academy. They don't know why they are studying. Some of them must live a little longer before they can benefit from their education. I've always believed in that, and that, too, comes out of my life.
You can see that I'm trying to bring it all together here!
Ms. Fischer: Why do you say that this is your last book?
Ms. Lerner: [laughs] Because I'm 82 years old, and I take 10 years to write a book. I don't think I have it in me to write another one, but that may change. I don't want to put it in writing!
If you've enjoyed this feature with Gerda Lerner and want to know more about the Wisconsin Academy of Sciences, Arts and Letters and the "Wisconsin Academy Review" magazine, become a member through a special PortalWisconsin.org offer.