Wausau museum spotlights the art and science of glassblowing
A series of glassblowing events at Wausau's Leigh Yawkey Woodson Art Museum promises to be—in the museum's words—"so hot it's cool."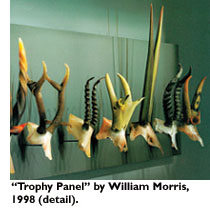 As a chilly Wisconsin winter wears on, art lovers can take in an exhibition by one of the top glass artists working today, and see demonstrations of the process of glassblowing.
The exhibition "Myth, Object and the Animal" features the work of William Morris, an artist from Stanwood, Washington, who got his start as a student of world-renowned glass artist Dale Chihuly. Now in his late 40's, Morris' style is very different from that of his early teacher. Morris is fascinated by mythology, ancient cultures and spirituality. His pieces are modern-day interpretations of Paleolithic artifacts, African head adornments, Native American pots and ancient Egyptian canopic urns (burial vessels shaped like human or animal heads that contained the viscera of the deceased).
What makes Morris' work so compelling is not just its subject matter, but also the artist's remarkable ability to render a variety of textures in glass. He convincingly mimics materials such as horn, bones, feathers, clay, bronze and stone. Morris' "Trophy Panel" from 1998 consists of a dozen glass skulls with variously shaped horns and antlers. The visual forms are striking, and viewers will be astounded by the artist's technical skill.

Because of the surface textures of the pieces, some viewers may assume that Morris' work is cast or molded. In fact, each piece begins as molten, blown glass at the end of a blowpipe, which is then meticulously shaped freehand into complex forms before surface designs and textures are added. Viewers can enjoy the Morris exhibit at the Woodson Art Museum through April 3, 2005.
Those who want to learn more about the process of glassblowing—or even try it out for themselves—will get the chance through the appearance of a very special "lady" known as Aunt Gladys.
Aunt Gladys is the nickname given to a mobile glassblowing studio operated by Southern Illinois University's School of Art and Design. For eight days, from March 13 to 20, 2005, Aunt Gladys will set up shop on the grounds of the Woodson. A three-man team will demonstrate how glassblowing is done; it promises to be a fascinating blend of science and fine craft.
Numerous events with Aunt Gladys are planned. Public demonstrations are planned for March 13, 19 and 20. At the end of each demonstration, a lucky member of the audience will get to keep the glasswork. There are also demonstrations geared towards schoolchildren from March 14 to 18; the general public may also attend these events. Because the demonstrations take place in a tent warmed by the fiery processes of glassblowing, normal winter clothing is appropriate.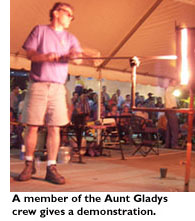 Interactive opportunities include a "Watch it Glow" workshop on March 14 for kids ages 8 through 15. Young people will get a close-up look at the "Myth, Object and the Animal" exhibition, then attend a special glassblowing demonstration in which the Aunt Gladys crew attempts to turn students' drawings into glassworks.
On March 16, adults and teens 16 and older get to work the pontil stick (a glassblowing tool) to create a hot-formed glass sculpture to take home. For complete information about any of these events, check the listings on PortalWisconsin.org or go directly to the Web site of the Leigh Yawkey Woodson Art Museum.
These 2005 events at the Woodson offer art lovers an excellent chance not only to view the work of a contemporary artist at the forefront of his medium, but also to better appreciate the process and technical skill behind such artistry. And, to help visitors to Wausau plan a complete getaway, the Woodson has developed a special "36 Hours" guide that includes the museum's offerings as well other cultural places of interest and spots to enjoy a bite to eat or a sip a locally-brewed beer. Click here to download a PDF copy of the "36 Hours" guide.