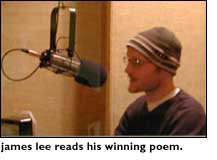 Wisconsin's winning poem
The
Wisconsin Academy of Sciences, Arts and Letters
claims the Badger State should be as famous for poetry as it is for beer and brats. Fitting then that this year's winner of the Academy's John Lehman Poetry Award, james lee, draws so heavily on images and emotions from his growing up in small towns along Highway 14 in southwestern Wisconsin.
"I try to bring something up from each one of those little towns and try to get people to better understand, or at least make them better equipped to understand their own lives in the same way. That each part of it in a strange way is sacred," lee said after recording his winning poem, "we will take it with us" for PortalWisconsin.org.
"There's a sign outside Lone Rock that says 'We are the coldest in the nation with the warmest hearts.' It's cheesy, but it's one of my earliest memories as a kid," lee recalls. "It felt like Lone Rock was the center of the universe."
Like that road sign that made such an impression on him, lee says poetry needs to be taken to the streets. "We should be out on the streetcorner right now screaming poetry at the passing cars. Poetry needs to be treated as something vibrant, alive and heard, not just wasted away in books in the stacks somewhere."
The winning poem can also be found in the spring issue of "Wisconsin Academy Review" along with poems by runners-up Dale Ritterbusch and Eleanor Stanford. Head judge for the competition was Wisconsin Poet Laureate Ellen Kort who was recently featured in a PortalWisconsin.org online chat. You can also read another online chat that took place April 9 with poet and Wisconsin Public Radio host Jean Feraca.
April is National Poetry Month and you can find a number of poetry events listed in our event search area, just enter the keyword "poetry." Or you can try your hand at writing your own Wisconsin poem with PortalWisconsin.org's poetry activity. And to learn more about how teens can get involved in poetry writing and performance check out Wisconsin Public Television's Poetic License Web site.