WPT project confronts global health challenges
Local health is global health, according to "Rx for Survival—A Global Health Challenge," a multimedia project launching in fall 2005. Why? Because in an era of international travel, communicable diseases know no borders. Also, diseases that the world had nearly eradicated are coming back strong. While tuberculosis (TB) was nearly eliminated by the early 1960s, improper treatment procedures have enabled a strain of TB that is resistant to almost every known antibiotic to reemerge. Today, TB is the world's second leading cause of death by infectious disease in adults.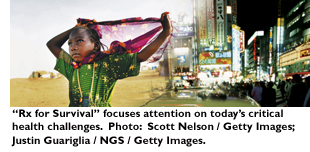 A core piece of the "Rx for Survival" project is the PBS series that will air on Wisconsin Public Television (WPT) 8 p.m. Tuesday, Nov. 1, through Thursday, Nov. 3. In the Madison area, the broadcasts will be supplemented by several outreach events for the public. The kickoff event is a Global Health Fair in the rotunda of the Wisconsin State Capitol from 9 to 11 a.m. Saturday, Oct. 8. Next up is a three-part lecture series:
Tuesday, Oct. 11, 7:30 p.m.
Speaker: Tom Loftus, UW Regent and former special advisor to the director general of the World Health Organization
Location: First Unitarian Society, 900 University Bay Dr., Madison
Tuesday, Oct. 18, 7:00 p.m.
Speaker: Carol Spiegel, UW microbiologist
Location: Middleton Public Library, 7425 Hubbard Ave., Middleton
Tuesday, Oct. 25, 7:30 p.m.
Speaker: Philip J. Hilts, health and science reporter and author of the companion book for the PBS "Rx for Survival" series
Location: UW-Madison's "Red Gym," On Wisconsin Room, 716 Langdon St., Madison
The full "Rx for Survival" project includes not only the Wisconsin Public Television broadcasts and Madison-area outreach events, but the PBS companion Web site, radio stories on National Public Radio, a companion book by Philip Hilts published by Penguin Press, and a special report in the issue of Time magazine hitting newstands Oct. 31, 2005.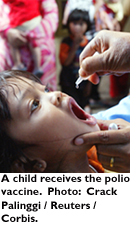 At a time when life expectancy remains high in the developed world, in many countries of the developing world, it has actually fallen due to AIDS, famine and inadequate medical care. An "Rx for Child Survival" campaign focuses on simple, inexpensive measures that could drastically reduce child mortality rates, including vaccines, antibiotics and insecticide-treated netting (since bugs such as mosquitos are notoriously effective spreaders of disease).
To learn more about modern health challenges affecting people in the United States and abroad, tune in to "Rx for Survival—A Global Health Challenge," Nov. 1-3 on Wisconsin Public Television, or check out PBS' companion Web site.
"Rx for Survival—A Global Health Challenge" is a co-production of the WGBH/NOVA Science Unit and Vulcan Productions Inc., in association with Johns Hopkins University Bloomberg School of Public Health. Major funding is provided by the Bill & Melinda Gates Foundation and the Merck Co. Foundation.
More on this topic: One Wisconsinite's experience
In 2003, Madison nurse Susan Dillon Gold volunteered in a children's home in Kenya, a country reeling from the AIDS epidemic. Read about her experiences.