Recommended Cookbooks featuring Wisconsin Food
from the Wisconsin Library Association
By Cecilia Wiltzius, Contributing Librarian
For EAT @ Wisconsin, Cecilia Wiltzius contributes her favorite Wisconsin cookbooks. "Brats and beer, wine and cheese, what's not to like about Wisconsin food? Never be at a loss for a recipe featuring Wisconsin's finest with these yummy cookbooks," she writes.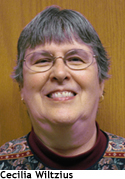 A lifelong Wisconsin resident, Cecilia Wiltzius was educated at the University of Wisconsin-Madison. She was a librarian with the Appleton Public Library for over 25 years and now is the Director of the Karl Junginger Memorial Library in Waterloo, Wisconsin.Cecilia has a 35-year-old son who has taught her everything she knows about technology. She keeps in touch with her Fox Valley friends in the Upsilamba Book Club. Her sister wrote a family recipe book that Cecilia uses to make Spanish Hamburgers and the Dumb Bunny dessert (so simple any dumb bunny can make it, Cecilia reports).
[See also, Eat @ Wisconsin's teen reading list and our children's reading list.]
---
Allen, Terese.
Wisconsin's Hometown Flavors; A Cook's Tour of Butcher Shops, Bakeries, Cheese Factories, & Other Specialty Markets, 2003. A guide to Wisconsin bakeries, butcher shops, fish markets, cheese factories and candy stores, this is a tourist's delight. Includes special recipes to make when you get home.
Hachten, Harva and Terese Allen.
The Flavor of Wisconsin; An Informal History of Food and Eating in the Badger State, 2009.Harva Hachten was the supervisor of publications for the Wisconsin Historical Society. She wrote Kitchen Safari, an African cookbook. Terese Allen is a Wisconsin native who writes about the pleasures and benefits of regional foods. She is a food columnist for Madison's Isthmus newspaper and the food editor for Organic Valley, the country's largest organic farmers' cooperative. She specializes in Wisconsin's food traditions.
More than a cookbook, this is a classic about all aspects of Wisconsin food. It is a food history that melds a culture with its agriculture, starting with the Indian tribes that have inhabited Wisconsin since its beginning and ending with the eat-local movement. There are recipes for frugal main dishes, candy and confections and many ethnic dishes that our grandmothers prepared. The book has an extensive bibliography for additional research.
Becky LeJeune, Editor.
Wisconsin Bed & Breakfast Cookbook: Most Requested Recipes from Wisconsin's Unique B&Bs and Country Inns, 2009. LeJeune is a Louisiana native currently living in Colorado. She edits regional cookbooks. Relive your Wisconsin vacations with favorite foods from Wisconsin's popular Bed and Breakfast establishments. From homemade breads and muffins, a breakfast staple in the B&B industry, to specialties like Lake Superior Smoked Trout Salad and Redneck Caviar. Each recipe includes a description of the Inn featuring the item.
Motoviloff, John.
Wisconsin Wild Foods; 100 Recipes for Badger State Bounties, 2005. Motofiloff hunts and fishes in Wisconsin and then prepares what he catches in the kitchen. An outdoor writer, he lives in a cabin on the banks of the Kickapoo River in Western Wisconsin.Great variety of recipes for waterfowl, small game, venison and fish. Top the meal off with Door County Cherries with Cream and Lethal Lemonade.
Raetz Stuttgen, Joanne and Terese Allen.
Café Wisconsin Cookbook, 2007. Recipes from Main Street cafés and diners with brief histories of the entrees. Use it to choose where to eat for breakfast or what to make for lunch.
Sanvidge, Susan, Diane Sanvidge Seckar, Jean Sanvidge Wouters, and Julie Sanvidge Florence.
Apple Betty & Sloppy Joe; Stirring Up the Past With Family Recipes and Stories, 2008. The authors are sisters from the Fox Valley area. They dedicate the book to their Mom and Dad. Heavy on nostalgia and complete with family pictures, this is one family's food history. It can also be every family's answer to the question: What are we having for supper?
Snyder, Marge and Suzanne Breckenridge.
Wisconsin Country Gourmet, 2003. The authors, Madison-basedcooking instructors, wrote the Country Gourmet food column in the Wisconsin Trails magazine and The Wisconsin Herb Cookbook. They own a food consulting business called Food Matters. Seasonal recipes feature ethnic and local foods, including Polish pierogi, a noodle-pasta dough filled with beef, cabbage, mushrooms, cheese or cooked fruit and German linzertorte, a nutty, rich dessert filled with raspberry preserves and dusted with powdered sugar. Gourmet dairy dishes and recipes to use up all of the extra zucchini and tomatoes from the garden.