Mary Bergin's Culinary Tour of Wisconsin: An Abridged Guide to our Favorite Foods
By Mary Bergin, www.roadstraveled.com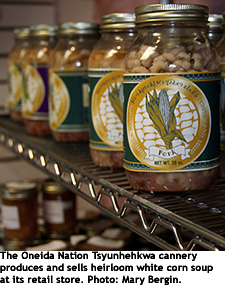 Let's take a look at the gut of Wisconsin.

We pay attention to the rhythm of the seasons: baking with rhubarb in spring, eating breakfast on the farm in June, gorging on sweet corn in August, touring cranberry bogs in October.

We embrace and promote the images that stereotype us: churning out international cheese champs, grilling brats outdoors in sleet to sun, tailgating in snowmobile suits.

We stay true to grandma's tradition of eating herring on New Year's Eve, making nut-filled potica for holiday gifts, simmering chili or booyah by the gallon.

We flaunt our ethnic heritage during summer festivals on Milwaukee's lakefront, the sale of bitter melons and habanero peppers at farmers' markets, the opening of restaurants that specialize in Peruvian to Korean cuisine.

The Oneida Nation, near Green Bay, turns the annual harvest and husking of white corn into a sacred act and community celebration (920-869-2718). The Friday fish buffet at the United Community Center's Café el Sol (414-384-3100) in Milwaukee is spiced with Puerto Rican side dishes and hot Latin music.

This is how we proudly graze through life in Wisconsin.

What other state could lure the National Brewery Museum (608-763-4002) into a village whose population barely exceeds 700? Where else would a condiment—mustard—turn into a quirky tourist attraction, via the National Mustard Museum (800-438-6878) in Middleton?

Trying to sort out who does the best job of defining us is askin' for trouble, I suppose, but it also might jumpstart discussion about your own favorites—which is what Key Ingredients: America by Food, the traveling Smithsonian exhibit that comes to Wisconsin in October 2010, is all about.

Consider the vast world of Wisconsin dairy products. We put our artisan cheesemakers on calendars (608-358-7837), produce more than 600 kinds of cheese and routinely dominate national cheese competitions by a mile.

Best of Show at the 2010 American Cheese Society competition, which involved
225 companies from three nations (Canada, Mexico and the U.S.): extra aged Pleasant Ridge Reserve, from Uplands Cheese Co., Dodgeville (888-935-5558).

The cheese is a three-time Best of Show winner, but it's $26 per pound and might be hard to find.

Among my less-expensive favorites: the brick at Widmer's Cheese Cellars (888-878-1107), whose recipe and technique date back to 1875. Buy the cheese from the factory outlet in tiny Theresa, where only a wooden railing separates production vats from retail coolers. If brick seems too pungent, try the Colby or eight-year cheddar, both judged tops in their ACS categories in 2010.

Also fattening our dairy diet is a proliferation of farmstead businesses that produce couldn't-be-fresher ice cream to yogurt to milk. Hardest to resist are the chocolate milk at Sassy Cow Creamery (608-445-2010), whose rural Columbus location encourages lingering during warm weather, and a scoop of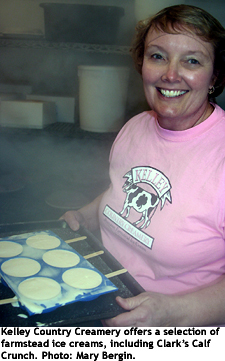 Clark's Calf Crunch (caramel, fudge and peanuts in vanilla ice cream) at Kelley Country Creamery near Fond du Lac (920-923-1715).

Closer to home, for me, are the delightful concoctions that come from Babcock Hall Dairy Store (608-262-3045), part of the dairy plant at the University of Wisconsin-Madison. Gotta love the Mint Fudge Marble and Orchard Custard Chocolate Chip (that's two flavors, not one).

On to sausage. When members of the Wisconsin Association of Meat Processors compete, a majority of their 38 categories involve sausage, braunschweiger to kielbasa. Products from Louie's Finer Meats Inc., Cumberland (800-270-4297) scored highest overall in 2010.

Nationally, Wisconsin swept the summer sausage category in 2010, thanks to top rankings from Karl's Country Market, Menomonee Falls (262-252-3090); Louie's Finer Meats, Cumberland; Country Fresh Meats, Schofield (715-359-1311); and Haen Meat Packing, Kaukauna (920-766-3239).

I'm partial to the sausage logs from kingpin Johnsonville Foods (888-556-BRAT), probably because I grew up in rural Sheboygan County, where the company is based. There's also something very likeable about the no-frills shopping at the Usinger's (800-558-9998) outlet on Milwaukee's Old World Third Street.

Our obsession with sausage—brats in particular—is evident every Memorial Day weekend, during the World's Largest Brat Fest (608-236-2022) in Madison, where a ridiculous number of food lines, condiment tables and volunteers appear and 209,376 brats (the record, so far) disappear in four days.

Less overwhelming, but perhaps more charming, is the Johnsonville Sausage Fest, on the Sunday after Independence Day. Polka music begins during an outdoor church service, then moves under tents and into the village firehouse. Last time I showed up, ladles of baked beans and German potato salad accompanied the grilled links—which, to me, is the perfect and typical meal for a small-town event.

The combo is a loose acknowledgement of Wisconsin's proud German heritage, but deeper connections to the Motherland also aren't hard to find. Consider the Winzer Stube (715-381-5092) in Hudson, which specializes in recipes from the Mosel, Rhein and Alsace regions—spiessbraten (pork roast) to konigsberger klopse (meatballs). At the Dorf Haus (608-643-3980) in Roxbury, schnitzel and rouladen have ruled the menu for more than 50 years.


A dizzying array of breweries exist to slosh down this and other grub, and we'll assuredly have no consensus on which is best. I tend to be fickle, because it seems like somebody is always coming up with a brew that's new, tasty and cleverly named.

My latest raves go to Fixed Gear American Red, produced by Lakefront Brewery (414-372-8800) in Milwaukee and the 2010 grand champ in the U.S. Beer Tasting Championship's amber/red ale category.

If we're talking root beer, I'm partial to Viking Brewing Co. (715-837-1824) in remote Dallas, where a smidge of wintergreen and pepper add a refreshing twist.

Add alternative beverages to the discussion, and I'll mention my respect for the meads and mulled cysers from White Winter Winery (800-697-2006) in Iron River. They are made with honey, fruits and botanicals--almost all of which are harvested within 150 miles.

What else says 'Wisconsin,' either in food tradition or product?

Booyah. Think stew, not soup, with veggies softened into mush and chicken--not beef!--simmered toshreds over an open fire outdoors. Some say Walloon Belgian settlers near Green Bay introduced the dish, and booyah meals in northeastern Wisconsin have long been a church fundraising tradition. HolyCross Parish, Green Bay (920-468-0595) produces more than 400 gallons for its annual summer church picnic. Taking the lead for many years was Don 'Soup' Jacobs, a Holy Cross member who died at age 80 in March 2010 and—according to the obituary—"was renowned for his chicken booyah, with the finished product going to many states and as far as Italy and the Netherlands."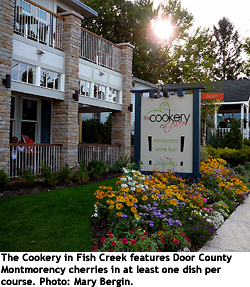 Cherries. Door County has long reveled in its production of Montmorency cherries, and the 13millionpounds picked per year will end up in wines, juices, salsas, preserves and secret-recipepies.Seems like every restaurant catches the spirit, including The Cookery (920-868-3634) in Fish Creek, where Carol Skare creates a smart-casual menu that sneaks cherries into at least one choice per course. Look for her cherry chutney, pickled cherries, cherrywood smoked bacon and cherry mimosas.

Cranberries. The Cranberry Discovery Center (608-378-4878) in Warrens explains what makes Wisconsin the leader in nationwide production of the tart, red fruit. Add the Warrens Cranberry Festival (608-378-4200) during the last full weekend of September; no other place in the world hosts a larger party for the berry.

Ethnic diversity. Nowhere is it more evident, accessible or edible than at the annual November Holiday Folk Fair International (414-225-6225) in West Allis, where dozens of nationalities gather to dance in traditional garb, sell indigenous crafts and sample bits of each other's culture.

Farmers' markets. We applaud and patronize the people who grow food locally and in healthy ways, especially at the Dane County Farmers' Market (608-455-1999) in downtown Madison on Saturdays. All vendors—who fill the Capitol Square from mid April to early November—are responsible for producing the items sold. About 300 businesses participate, and no other producer-only market in the U.S. is larger.

Fish boils. Maybe this is where food theater began, with the quick flash of kerosene under an open-fire pot of boiling whitefish, onions and potatoes. Lett out an "ooh" and "aah" during the overboil,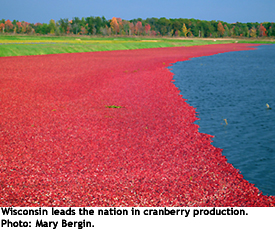 which brings fish oils over the top and signals the meal is ready to serve. That's a big part of the fish stew experience. Viking Grill (920-854-2998) in Ellison Bay takes credit for establishing the seasonal tradition, but choices are abundant throughout Door County.

Whitefish. The gilled vertebrates lack star status but are plentiful in the Great Lakes, so savvy chefs run with the bounty and find novel ways to tempt palates. At the flamingo-filled Maggie's in Bayfield
(715-779-5641) a sauté of whitefish livers, mushrooms, onion and green peppers are a dining delicacy.
---
Mary Bergin's award-winning book Hungry for Wisconsin: A Tasty Guide for Travelers highlights the fine Wisconsin cuisine she's discovered in some unexpected places. Find the book online at Itchy Cat Press, and read more of Mary's work at www.roadstraveled.com.