Door County Fish Boil
From The Flavor of Wisconsin by Harva Hachten and Terese Allen. Reprinted with permission from the Wisconsin Historical Society Press.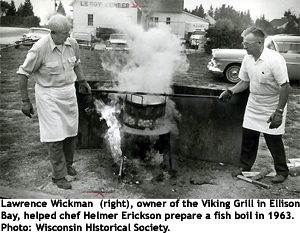 The fish boil has become as closely identified with Door County as cool summer breezes and has long provided gustatory enjoyment to the area's many summer vacationers. Those who want to duplicate this specialty in their own back yards can buy the special fish-boil kettle that has evolved from its popularity. This 3-part, 12 1/2-quart kettle has a metal basket that fits into the large, outer container and a lid with vents that can be opened. (You can get the same results using a large steamer or any soup pot plus basket or colander that will fit inside; when boiling, place the cover so that steam can escape.)
This recipe calls for a great deal of salt. The cooked product, however, is not salty, because much of the salt is removed during the "boil-over."
Ingredients:
Large freshwater fish such as whitefish, lake trout, steelhead, coho salmon, pike
New potatoes of uniform size
Small onions
Salt
Melted butter
Chopped parsley
Sliced lemon
Method:
Figure about 1/2 pound of fish per person. For each pound of fish, you will need 2 potatoes and 1 onion. A campfire is the ideal place to cook a fish boil.
Clean fish. One type of fish may be used or a combination of varieties can go into the pot, depending on the catch. Cut fish crosswise into 1 1/2-inch steaks.
Scrub but do not peel potatoes. Peel onions and leave whole.
Into the container of the fish boiler, place potatoes and 8 quarts of water. Cover with vents open and bring to a boil over high heat. Add onions and salt and return to a boil. Boil 20 minutes covered (and vents open).
Place fish in basket and lower into boiling water. Replace lid with vents open and cook at a rolling boil for 12 minutes or until potatoes and fish are cooked.
Drain and serve with melted butter, chopped parsley and lemon slices.
Submitted by Rosalie (Mrs. Oscar) Mayer, Madison.


Twenty-five years after its publication, The Flavor of Wisconsin remains the authoritative history of Wisconsin's culinary traditions. In the first edition, Harva Hachten paired fascinating essays on our state's food history with more than 400 carefully chosen recipes from Wisconsin kitchens past and present. Terese Allen's much-anticipated revision has widened the lens, introducing new topics, elaborating on others and connecting the historical dots of our magnificently rich food history. New recipes reflect the continually evolving nature of the flavor of Wisconsin.