O & H Danish Kringle
From Home Cooked Culture ... Wisconsin Through Recipes, compiled by Choua Ly and edited by Terese Allen. Recipe submitted by Ray Olesen of O & H Bakery in Racine. Reprinted with permission from the Wisconsin Arts Board.
Ingredients:
Dough:
1 1/2 sticks (3/4 cup) butter, softened
1 package (2 ounces) cake yeast
1/4 cup warm water
1/4 cup lukewarm milk
1/4 cup sugar
1/2 teaspoon salt
1 egg
2 cups sifted all-purpose flour
Butterscotch filling:
1 cup brown sugar
1/3 cup butter, softened
pinch of salt
pinch of cinnamon
1/2 egg white
Other:
chopped nuts, fruit or jam for filling
1 1/2 cups powdered sugar for icing
Method:
To make dough, trace or mark an 8-inch square in pencil on each of two pieces of waxed paper. Divide softened butter in half and spread each half evenly over the marked squares. Chill to harden the butter. While butter is chilling, break up yeast, place in large bowl, and stir in 1/4 cup warm water until yeast is dissolved. Add the 1/4 cup lukewarm milk, sugar, salt, lemon extract, and egg; mix well. Stir in flour until dough is smooth.
Turn dough (it will be soft and sticky) onto well-floured surface. Sprinkle with flour and knead it very lightly and briefly, about 3-4 turns. Roll out dough to an 8-by-12-inch rectangle with floured rolling pin. Place one of the chilled butter squares over the bottom two-thirds of dough; peel off waxed paper. Fold the top, uncovered third of dough over the middle third, then fold the remaining third over the top of the fold. Now, working from the right side of the dough rectangle (instead of the top) again fold one end over the middle third of dough, and fold remaining third over the fold, making a square of nine layers. Flour lightly and wrap in waxed paper. Chill 30 minutes.
Roll out dough again to an 8-by-12-inch rectangle. Place second square of chilled butter over dough as before and again do the folds as described above, to make a square of 18 layers. Flour lightly, wrap in waxed paper, and chill 2 hours.
Meanwhile, make butterscotch filling by mixing ingredients until smooth. Line two baking pans with parchment paper or aluminum foil.
After dough has chilled a second time, cut it in half. On floured surface, lightly roll out each piece to a 20-by-6-inch rectangle. Spread half of the butterscotch filling lengthwise down the middle third of each rectangle, then spread your choice of nuts, fruit or jam over the filling. Fold one of the long edges to the center of the filling. Moisten other long edge and fold over the top to completely cover filling. Press along seam to seal well. Place each folded rectangle, seam side up, on a prepared baking sheet and form into oval shape, pressing ends of kringle together to close the circle. Flatten kringles with your hand, cover with light cloth or plastic wrap, and let rise in warm (70-degree) place for 1 hour.
Heat oven to 350 degrees before dough completes its rising. Bake kringles until golden brown, 25-30 minutes. Cool in pans on wire racks.
Combine powdered sugar with 2 tablespoons water; beat until smooth. Spread icing over cooled kringles. It's also nice to decorate the kringles with chopped nuts or fruit. Kringle keeps very well in the freezer or for several days in the refrigerator. The high butter content keeps them moist.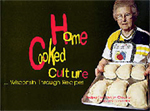 Drawn from the 1998 Wisconsin Folklife Festival, Home Cooked Culture features nearly 100 recipes along with notes on their origins and special place in family and ethnic traditions. Says Ray Olesen of his family's kringle recipe: "The minimum of 32 layers of dough folded over butter is what makes Danish pastry. This is what is different from just a sweet dough. To make kringle is virtually an all-day project at home. For the best results, you cannot deviate from the procedure."
---
| | |
| --- | --- |
| | Watch this Wisconsin Arts Board video showing Ray's son Eric Oleson in a kringle-making presentation. |