Suggested Readings on Rural Life in Wisconsin
from the Wisconsin Library Association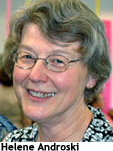 By Helene Androski, Contributing Librarian
A retired Senior Academic Librarian from Memorial Library at the University of Wisconsin-Madison, Helene Androski remains active in the Wisconsin Library Association. Her activities have included several years' work on the Literary Awards Committee, which selects annually the best books by Wisconsin authors, and work on a panel that reviews books given awards by the Wisconsin and the American Library Associations.
[See also, Voice of Rural Wisconsin's teen reading list and our children's reading list.]
---
Apps, Jerry. Apps has written dozens of fiction and nonfiction books based on his own experience growing up on a Wisconsin farm and his research as a professor at the University of Wisconsin-Madison Agriculture And Extension Education Dept. Here is but a sample:
Blue Shadows Farm, 2009. A novel covering three generations of a Wisconsin farm family.

Living a Country Year: Wit and Wisdom, 2008.

Old Farm: A History, 2007. A chronicle of the land the Apps family farmed beginning with its formation in the Ice Age to Native American habitation to early white settlers to the present.

The Wisconsin Traveler's Companion: A Guide to Country Sight, 1997. As its title implies, this book identifies and explains the sights you see when traveling through rural Wisconsin, from cattle breeds to crops to farm buildings.
De Luca, Sara.
Dancing the Cows Home: A Wisconsin Girlhood, 1996. A memoir of growing up on a farm in western Wisconsin in the 1940s and 1950s.
Ellis, Mary Relindes.
Turtle Warrior, 2004. A grim but beautifully written novel about a dysfunctional farm family in northern Wisconsin during the Vietnam War era.
Garthwaite, Chester.
Threshing Days: The Farm Paintings of Lavern Kammerude, 1990. Garthwaite's text illuminates the richly detailed and evocative paintings  Kammerude made from memories of his youth on a Wisconsin family farm in the 1920s and 30s.
Isherwood, Justin. A fifth-generation farmer in Plover, Wisconsin, Isherwood had also written several fiction and nonfiction books on the subject.
Book Of Plough: Essays On The Virtue Of Farm, Family, & The Rural Life, 1996.

Farmkid: Tales Of Growing Up In Rural America, 2005. Autobiography

The Farm West Of Mars, 1988. Fiction
Logan, Ben. The quintessential memoirist of Wisconsin farm life, Logan writes beautifully about his family farm in the southwestern part of the state.
The Empty Meadow, 1983. Fiction

The Land Remembers: The Story Of A Farm And Its People, 1975.
Perry, Michael. With a winning combination of humor and pathos, Perry writes about his life in rural northwest Wisconsin.
Population: 485, 2002. The story begins when Perry returns to his childhood home in New Auburn and joins the village fire and rescue squad, bringing him in direct contact with the life and death issues facing his neighbors.

Truck: A Love Story, 2006. The saga continues as Perry repairs a 1951 pickup truck and finds romance.

Coop: A Year Of Poultry, Pigs, And Parenting, 2009. Perry reflects on the joys and challenges of raising farm animals and a daughter.
Peters, Robert.
Crunching Gravel: A Wisconsin Boyhood In The Thirties, 1993. Life on a hardscrabble farm during the Great Depression.
Rhodes, David.
Driftless, 2008. Fiction. The interlocked stories of the residents of a farm community in southwestern Wisconsin. The sense of place is palpable.