Voices of Rural Wisconsin Part Three: From Farm to Plate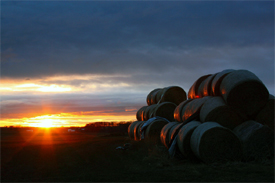 As autumn splashes change across our beloved Wisconsin landscapes, it is a good time to ponder the texture, color, flavor and variety of foods that sustain us--and also the systems that bring them to us.
It's something as consumers and diners we don't always consider. How did this food get on my plate? How far did it travel and how long since this vegetable was picked? Did this hamburger come from a grass-fed or corn-fed cow? Were the eggs that went into this mayonnaise from free-range chickens? Like many thing in modern life, food transportation and processing happens so seamlessly--often invisibly--that we give them nary a thought.
In part three of the Voices of Rural Wisconsin project, we visit with a group of friends and neighbors who can help us answer some of these question and offer a little insight as to how our food gets from farm to plate.
We begin with longtime produce grower Ross Turner, the main heartbeat of the well-known Turner's Fresh Market in rural Waupaca County. In search of the perfect French fry potato and market-fresh spuds for the year-round market, we travel southwest to Steve and Andy Diercks's Coloma Farms, a mid-sized potato and vegetable operation in the Golden Sands region of central Wisconsin.
José Zaragosa and wife Socorro migrated to central Wisconsin, too, to work on potato farms and pick pickles. We meet Socorro, a native Texan and the "one hundred percent Mexican" José who now run a family operation--along with son, José Jr.--in Plainfield that sells flower arrangements in spring and vegetables and fruits in summer through autumn in several different locations.
Larry Raikowski's family arrived in central Wisconsin in the late nineteenth century, traditional dairy farmers who set up on the thick soils of west of the Wisconsin River near Junction City. Today he and his wife, Sara, offer direct sales of pasture-raised meat, fresh vegetables and canned goods processed on the farm. They've relied heavily on marketing to make a go of it.
Marketing is crucial for purveyors of local foods, and they have a friend in Jack Kaestner, chief chef at the Oconomowoc Lake Club. Up to 35% of the fare he serves at the historic club is locally sourced, and Kaestner is proud of the networks that he and local growers have established--to their mutual benefit.
Join us, then, in this harvest season, as we explore, ponder and celebrate the future of Wisconsin food and the people who help deliver it to your plate.
---
Voices in this series