Day Trip: River Falls
River Falls has big flavor and small-town charm
Your tour guide: Margaret Smith, River Falls resident and Executive Director of the Great River Road Visitor and Learning Center in Prescott
A warm and welcoming community, 19th-century small town charm, a world-class trout stream and parks for every kind of exploring are some of my favorite things about River Falls.
Downtown River Falls is filled with 19th century buildings, many dating from the decades following its 1848 founding. Look for unique engraved plaques on Main Street buildings that feature a picture of the building in its earliest days and the year of construction. Stop by one of our Main Street specialty shops and check out the local and international items for sale. Local art, pottery and crafts are showcased at GlobalMade and Interior Concepts (120 N. Main St., ph. 715-425-941). And Freeman Drug (104 S. Main St., ph. 715-425-2255) has the best selection of local books and notecards for souvenirs.
River Falls is filled with special parks. One of my favorites, Glen Park is the city's oldest. Cross the pedestrian Swinging Bridge over the Kinni River to enter the park from Cascade Street, or turn west on Park Street. This century-old park is a great place to picnic, swim, fish, hike and so much more. In summer, follow the paths to the Kinnickinnic River (fondly known as the Kinni), a pristine and internationally known trout stream, and enter a world filled with peace and the music of rushing water. You're sure to see herons, warblers and a host of wildlife. Look for the lime kilns, tucked along the paths, once used to make limestone for downtown. I always bring my camera to capture the extraordinary beauty found along the Kinni.
The White Pathway is another serene getaway in the heart of downtown. This beautiful "linear park" runs along the old railroad bed next to the Kinni. Enjoy the wildflowers, read the poems stenciled on the path or take a picnic lunch. Benches, a fishing dock and historic markers to read are invitations to relax in the park's quiet charm. The White Pathway is easily reached via the footbridge at the edge of Vets Park, a pocket park jewel in the middle of downtown. Free summer concerts are held Friday evenings in Vets Park magical golden light. Enjoy sitting in the park, surrounded by flowers and river views, any time of day. People watch to your heart's content.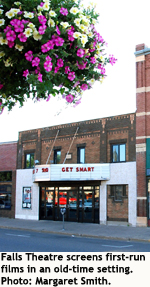 You're probably hungry by now! Stop by one of our many local eateries, all great places to meet the locals! The popular West Wind Supper Club (709 N. Main St., ph. 715-425-8100) has been a River Falls fixture for more than thirty years. Don't forget to stop by the Falcon Food Store (149 Food Science Addition, 715-425-3702) on the University of Wisconsin-River Falls campus to bring home special cheeses and meats, made right on campus. Their ice cream is really something special! For the best cookies in the entire state, stop by the outlet store of Best Maid Cookies (1147 Benson St., 715-426-2090)--yum, yum!
Finally, don't leave River Falls without enjoying a movie at the famous Falls Theater (105 S. Main St., 715- 425-281) built in 1927. Here families and friends line up for first-run movies in an old-time theater setting, featuring the best prices anywhere. With ticket prices of $3 and popcorn less than $1, this is a true River Falls landmark. Or catch a play, concert or art exhibits at the Kleinpell Fine Arts building, on the University campus. Great prices, fabulous talents!
River Falls is filled with places to explore and enjoy, and it's a great destination to explore the exceptionally beautiful countryside and towns which surround it. I look forward to your visit!
Have some time to explore beyond River Falls?
Take Highway 35 south to the Great River Road Visitor Center in Prescott (200 Monroe St., 715-262-0104), Wisconsin's gateway to the Great River Road. From the bluff, you can see the blue waters of the St. Croix mix with the brown waters of the mighty Mississippi. This Audubon birding site has spotting scopes for all ages. Enjoy exhibits featuring local artists. Travel further south on Hwy 35 along the Great River Road and check out the little towns sandwiched between the towering limestone bluffs and the majestic Mississippi River with its sapphire Lake Pepin. Beautiful!
Travel east from River Falls on Highway 29 to Spring Valley to explore Crystal Cave (ph. 800-236-2283), the largest underground cave system in Wisconsin. Open April through October, this is a really cool place! While you're near Spring Valley, tuck on down to Nugget Lake County Park--this has some spectacular hikes and overlooks, and a special rock formation caused by a falling meteorite.
Southeast of River Falls on Highway 65 is Ellsworth, the county seat of Pierce County. One of the best kept secrets for fabulous dining is Shady Grove, which features locally grown food. This small restaurant is a true "foodie" destination. And as long as you're in Ellsworth, stop by The Creamery (232 N. Wallace St., ph. 715-273-4311)--it's the best place to get fresh, squeaky cheese curds. Absolutely delicious! Still warm from the vats, the fresh curds are available beginning at 11:00 a.m.
Heading west out of River Falls on County Road FF, turn north on County F until you see the sign for the Kinnickinnic State Park (ph. 715-425-1129). The park has loads of trails and post card perfect overlooks of the St. Croix River. Don't miss the beach for unforgettable sunsets.
If you're going north to Hudson, be sure to visit Seasons on St. Croix Gallery (401 Second St., ph. 715-381-2906). This incredible store features the works of many local artists. Downstairs you can even see glass blowing demonstrations.
---
Related links:
Great River Road Visitor Center