Day Trip: Spring Green
Cultural thrills on Southwest Wisconsin hills
Your tour guide: Barbara Sanford, Editor, Wright in Wisconsin, the newsletter of the Frank Lloyd Wright® Wisconsin Heritage Tourism Program
Spring Green teaches you that anything at the top of a hill (or rock) is worth the climb, be it American Players Theatre, the Tower Hill State Park shot tower or House on the Rock.
Begin your day at Tower Hill State Park (5808 County Highway C, 608-588-2116), open May through October. Hike to the top of the bluff high above the Wisconsin River to the reconstructed 1800s shot tower and smelter house, where you can see a small exhibit and video about making shot. Hike down to the base of the rock bluff, where a 90-foot tunnel--a cool summer retreat--leads to a collection pool. Follow the hiking trails for glimpses of river wildflowers, birds and wildlife.
Head down the road to the Frank Lloyd Wright Visitor Center (Highways 23 & C, 608-588-7900) for a stunning view of the Wisconsin River. Inside, you can browse the Taliesin Bookstore and gift shop, sip a cappuccino at the Riverview Terrace Restaurant and take in the Taliesin exhibit and video. Schedule a tour of the architect's home and studio for another day. There are many to choose from.
In town, visit the Jura Silverman Gallery (143 S. Washington St., 608-588-7049), with an excellent selection of contemporary Wisconsin art. This restored cheese warehouse overflows with paintings, sculpture, pottery, glass, handmade paper, art glass lamps, furniture, baskets and jewelry. Nail gouges and round storage barrel floor marks are vivid reminders of the building's historic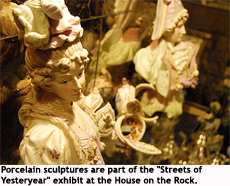 beginnings.
Order an international dish at the funky, family-owned Spring Green General Store (137 S. Albany St., 608-588-7070), the big blue building next to the railroad tracks (the other converted cheese warehouse in town). This cafe and retail store features women's clothing, jewelry, gifts, toys, groceries, housewares, cards and old books. Clad in bib overalls, co-owner Todd Miller chats with locals at the checkout counter of this welcoming community gathering place.
Sculpted lizards and dragons cling to the sides of huge strawberry pots lining the drive up to the House on the Rock (5754 Highway 23, 608-935-3639). Open May through October, it's Wisconsin's No. 1 tourist attraction--and for good reason. The House on the Rock has everything, from the world's largest carousel to amazing collections of dollhouses, organs, weapons, armor, crown jewels, and doll carousels; and circus, aviation and maritime exhibits--"to entertain and astound" visitors. You couldn't dream this place up if you tried.
The house is the main draw for many. Built atop a 60-foot chimney of rock, with breathtaking views of hills and valleys, it embodies owner Alex Jordan's creative vision. The Infinity Room, waterfalls, massive fireplaces, Asian art, bell gallery, immense fire pits, huge cauldrons, music machines and the world's only mechanically operated symphony orchestra are but a few of its marvels.
End your day with a healthy dose of Shakespeare, Shaw or Tennessee Williams at American Players Theatre. Enjoy a gourmet picnic dinner in the tree-shaded picnic area. Then head up the hill for classical theater at its best in this natural amphitheater in the woods to enjoy a show under the stars as bats soar overhead.
On another day, beat the summer heat in a canoe or tube on the scenic Wisconsin River. Pull up to a sandbar and enjoy a leisurely lunch. Or take a river circuit bike ride. The country roads between Lone Rock and Spring Green are almost all level--a boon for tired bikers.
Still, it's the hills and valleys--full of rich history, great theater and architecture and natural beauty--that make Spring Green one of Wisconsin's favorite destinations.
For more information, contact the Spring Green Area Chamber of Commerce, 800-588-2042.
[Note: Some of the venues in this day trip column are open seasonally; please check individual locations before scheduling your trip.]