Mural Walk

is a stroll through Ashland's past

by Tammy Kempfert, PortalWisconsin.org


Nearly eleven years ago, Wisconsin artists Kelly Meredith and Sue Martinsen painted Ashland's first historic mural as part of the state sesquicentennial celebration. Though they didn't know it at the time, that project would launch the two on a long-term creative mission to bring art, history and tourism to Ashland.
Since finishing the mural in 1998, Meredith and Martinsen have continued documenting Ashland's past in paint. By 2005, their collaboration had put Ashland on the map as the Historic Mural Capital of Wisconsin -- and today, the city's eight-block business district showcases eleven of their murals, an attraction known as the Ashland Mural Walk, with an additional mural located at the Best Western Inn on the outskirts of town.
The two met after Meredith, a former art teacher, won the bid on the sesquicentennial mural. Martinsen, along with a number of other community members, volunteered to help with the project. "As these things often go, people gradually dropped out, and by the time we reached the highest scaffold [to complete the mural], I was the only volunteer left. That's how Kelly and I learned that we work really well together," says Martinsen, who has degrees in art education and studio art.
The first of Ashland's murals portrayed city founder Asaph Whittlesey, along with other early inhabitants. Whittlesey is seen circa 1860, just before embarking on his historic snowshoe trek to Sparta. It was there he caught the train to Madison to take his seat as northern Wisconsin's first representative to the state legislature.
When a local businessperson asked them to paint a second mural on his building, Martinsen hatched
the idea for a Mural Walk, with the ultimate goal of attracting people, jobs and commerce to Ashland. The city eventually formed a Mural Walk Project Foundation to administer ongoing efforts. The business community helped fund future murals as well, and individual residents have responded with a generosity that makes Sue Martinsen proud.
Subsequent projects depict other Ashland history-makers -- pow wow dancers, voyageurs, lumberjacks, waitresses, soldiers, pilots and shop owners. Almost all the people depicted were painted from photographs of identifiable Ashland residents. "I know we need to have important people doing big and important things ... but it's really everyday people building their lives who are making history," Martinsen explains.
In June 2009, the artists will apply paintbrush to brick once more when they begin work on the city's thirteenth mural, located at the Book World building on 3rd and Main. According to Martinsen, the new mural will be Wisconsin's largest, appropriately representing what was in its day the largest ore dock in the world. Along with a central image of the ore dock, the mural will include 20 5x8-foot "postcards" showing different perspectives of the dock.
The project couldn't be more timely. Demolition on this much-loved Ashland icon begins soon, as the ore dock has become a public safety hazard too expensive to repair. Martinsen says that even though it ceased being used in 1965 and public access was later outlawed, the ore dock inspires awe. "It's huge ... like standing in a cathedral," she adds.
Martinsen is a lifelong Ashland resident. She says she and Kelly Meredith will keep painting as long as the community is willing to fund the work: "The local people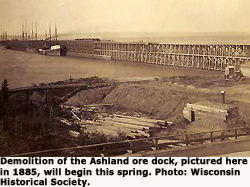 have loved the murals incredibly. They send photos to loved ones who have left Ashland. They've planned family reunions around mural dedications." Meredith, who makes her home in nearby Butternut, now earns a living painting murals around the Midwest. (She was working out of state at the time of this interview and could not be reached for comment.)
When asked what the project has meant to her personally, Martinsen says the Mural Walk has confirmed what she has always believed about Ashland, that it's a special place where ordinary citizens make history. "We love Ashland. We love its history, and we love its people. And I want other cities to be saying, 'We want to be like Ashland.'"
Bricks in support of the ore dock mural effort are available for purchase; these will feature donors names and appear at the bottom of the painting. For more information, contact the Ashland Chamber of Commerce at 800-284-9484.